Terahertz Electro-Optics
Terahertz (THz) electro-optics (EO) is the modulation of a material's optical properties by application of an electric field oscillating at THz frequencies (>1000 GHz). We study THz EO in GaAs quantum wells. Essentially, a THz EO experiment consists of shining weak near-infrared (NIR, wavelength around 850 nm) light onto a sample simultaneously with an intense THz laser beam from a Free Electron Laser. Then we collect the NIR light that comes out, and see how its absorption and emission spectrum has been changed by presence of the THz beam.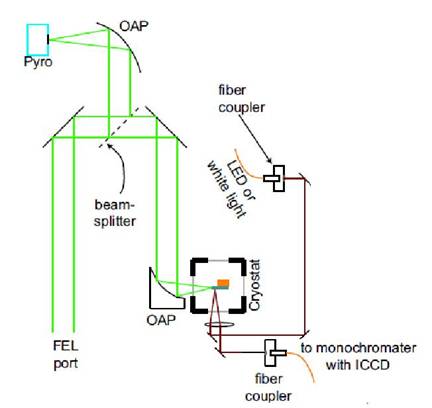 Some things we observe are:
absorption lines that shift due to coherent mixing of states with the THz field.
photoluminescence quenched or enhanced by carrier heating and resonant absorption of THz by excitons.
nonlinear frequency mixing of the THz and NIR light
There are a wealth of excitations within conduction and valence bands that resonate at THz frequencies, including: internal exciton transitions, excitonic intersubband transitions, cyclotron resonance, intersubband plasmons, etc. These excitations can be spectroscopically studied by use of THz EO, by measuring the strength of a THz EO effect vs some tuning parameter such as THz frequency or magnetic field. Conversly, they can be exploited to resonantly enhance THz EO effects for practical use.